null H145 FADEC redundancy improvement
29 Apr 2021
In the frame of the product improvement programme for its H145 light twin-engine aircraft, Airbus Helicopters is introducing a Time Limited Dispatch (TLD) concept within the full authority digital engine control's (FADEC) redundancy management, aimed at ensuring the continuity of flights and operations.

This new TLD concept allows operators to fly even when the FADEC loses its redundancy for a level 1 failure (e.g. sensor failure displayed on the Flight Navigation Display master list). In the event of a level 1 failure, pilots can continue their missions with one or two FADECs in redundancy mode for at least 6 flight hours after the failure event.

Customers benefit from more maintenance flexibility by having the advantage of at least 6 flight hours before having to carry out the necessary maintenance operation.

This TLD improvement is available for the H145 BK117 D-2 and D-3 variants with the revision 4 of the Master Minimum Equipment List (MMEL) accessible though the T.I.P.I. portal (https://www.airbushelicopters.com/techpub/).

For more information, please contact a Sales Manager or contact Airbus Helicopters.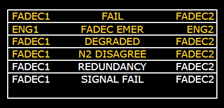 Footer - Social media links
Country and Group Websites